We are very proud and committed to offer you a very unique, unusual, adventurous experience sailing on the "best" and "only" "private", "pleasure" "sailing catamarans" available in "all of the Hawaiian islands".
All are individually owned, operated and maintained … This means to you, pride of ownership, personal attention to (you) our clients … years and years of experience and love of sailing Hawaii islands and waters …. local knowledge, love of culture, beauty of land and sea life above and below.
We are all local Hawaii, labor of love deep ocean, owners, captains, sailors, in addition sailed on these boats Pacific Ocean from Caribbean, Panama, Mexico, Tahiti etc.
We offer; Fountaine Pajot 35, Robertson-Caine Leopard 38, Lagoon 42, Bahia 46 Catamaran !!! These are the most economical, Quality catamarans available in Hawaii.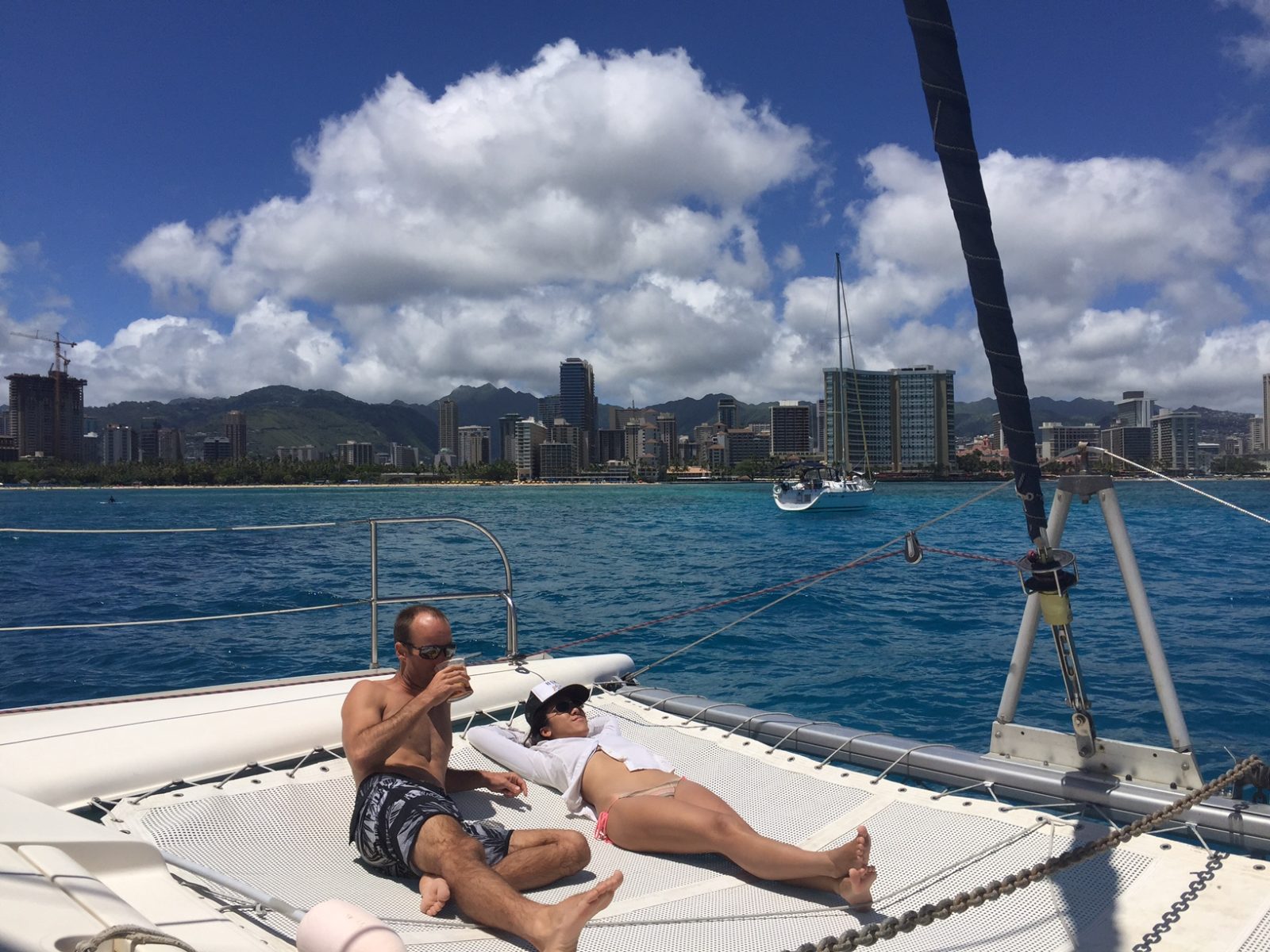 For information on prices, itineraries, private daily or weekly charters and tours...
In addition we offer economical and luxury Monohulls, power Yachts and Sport Fishers.
Monohulls:
96'Schooner, 59.5 Oceanis, 47′ Oceanis, 43'Jeanneau, 39′ – 42′ 43′ Beneteau
Sail Catamarans:
35′ Fountaine Pajot, 38′ Robertson-Caine Leopard, 42′ Lagoon, 46′ Bahia
Power:
Large 237 passenger capacity Tour/event Ship, 42 passenger 62′ steel steam ship replica (Seattle) 65′ Viking, 48′ Cabo, 45′ Sea Ray (Hawaii) 32' Bayliner express cruiser (San Juan Islands)
Our power fleet is the finest in Hawaii,  from economical sport fishing to uber luxury Yachts with gourmet chef cuisine. Unspoiled waters with abundance of sea life and game fish. Luxury Yacht, charters, sport-fishing Charters, Whale Watching Trips, Island Tours, Sunset Cruises Barrier Reef Tours, Snorkeling Adventures and more…
Seattle, San Juan Islands, sail; monohull and power; Large 42 passenger and a 237  passenger tour/event ships.Exciting New Addition !!! Experience the scenic beauty of the San Juan Islands  Jeanneau Sun Odyssey 43ds.
The finest economical sailing or step up to premier luxury yachts in Hawaii.
These boats exude pride of ownership. Far better than a "generic" charter boat 
96′ Schooner, crew of 6, 14 passengers 
Just looking for a short 3 hour to a 1 day sail near Waikiki, Diamond head, Oahu.
Snorkel, whale watch, dinner cruise, sunset, moonlight, sunrise sails, Friday night Waikiki fireworks !! Gorgeous Jenneau Sun Odyssey 43 DS.
What our customers say...
"We have traveled several times with Capt. Jerry Bryant, in Hawaii, Mexico and in the BVI in 2008. We have always had the best of experiences on and off the ship. I look forward to sailing again with him in the near future and would recommend him to anyone thinking of a Hawaiian or Caribbean experience you won't forget."
Tim & Janis Londos
2010
Hawaii Sailing Adventures, LLC
Office 206-420-3947
Cell: 206-931-3847
4721 SW Admiral Way, Seattle, WA 98116